rentals
want to rent a projector
720P 1000 Lumens $10.00
720P 2500 Lumens $29.99
1080P 3000 Lumens $39.99
1080P 4000 Lumens $79.99
1080P 6000 Lumens $129.99
1080P 10000 Lumesn $400.00
all rentals are per day. If you need weekend rental please call us at 562.366.4177
Projector Rental $19.99 per day when you rent for 2 or more days m-th
Macbook Rental $25.00 per day
Server Retnal $100 per day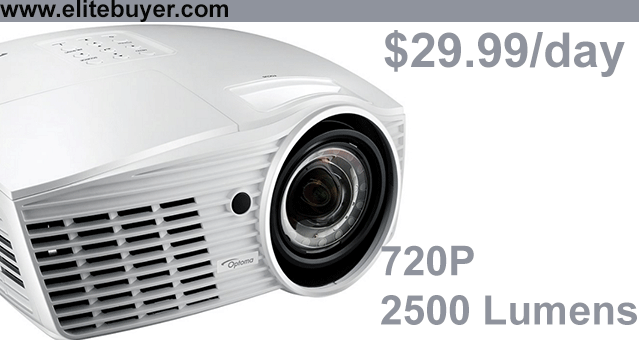 $19.99 per day is the lowest price in southland, price good m-th when you rent for 2+ days
---
Simple to connect to with HDMI connectivity the S316 is ideal for use in a meeting room or classroom. The bright 3200L with 15,000:1 contrast allows you to project bright, crystal clear images with superb colours using DLP®, BrilliantColor™ and Dynamic Eco+ technology. 
The S316 also provides you with energy and cost saving features with an incredible lamp life of up to 10,000 hours. It also incorporates a built in speaker, Full 3D technology and optional wireless capabilities allowing you to present wirelessly from a PC or mobile device with ease. Installed or on the move with the included carry bag, the versatile S316 is the perfect projector for all your display needs.
Long Beach, Lomita, Torrance, Los Angeles, Carson, LAX, Convention Center area only
we have 720P, 1080P HD 3d 4000 lumens

get the projector that works for you
Call now:562-366-4177 or send us an email
DLP and LCD Projector Rentals - We offer a complete selection of LCD and DLP projectors by, InFocus.
| video lcd projectors rentals In Los Angeles | video projectors rental Santa Monica
| same day lcd projector rental los Angeles |
Rent a projector In Los Angeles | projector Rental Los Angeles, ca
|LCD projector Rentals In Los Angeles | lcd video rental los Angeles, ca |
video projector rental los Angeles | Renting projector Los Angeles |
Renting projectors South bay |dlp projector Rental Los Angeles | Los Angeles projector
| Los Angeles lcd projectors Rentals | Los Angeles dlp projector Rentals |
| Los Angeles Renting projector Machines |
Rent a lcd multimedia projector | lcd projector Rentals | multimedia lcd |projector rental Santa Monica |projector rental Huntington beach |dlp projector rental Manhattan beach| | projector rental Newport beach| projector rental Costa mesa |
lcd projector rental Torrance |
| projectors rental Westwood |projectors rental Beverly hills |lcd projectors rental Brentwood |
| lcd projector rental marina del Rey| projector rental playa del Rey| projector rental Lakewood |
|lcd projector rental long beach | lcd projector rental Brea | projector rental chino |
|projector rental Covina | projector rental san Dimas | projector rental Hollywood |
|lcd projector rental west Hollywood | projector rental east los Angeles | projector rental Cerritos|
| projector rental Buena park |lcd projector rental Burbank |projector rental culver city |
| projector rental orange |projector rental Ontario | lcd projector rental Van Nuys |
| projector rental Yorba Linda | projector rental Glendora | projector rental Fullerton |
| projectorental el Segundo |lcd projector rental Duarte |projector rental diamond bar |
| lcd projector rental studio city | lcd projector rental cypress| projector rental Alhambra |
|projector rental Altadena | lcd projector rental Palos Verdes |lcd projector rental Anaheim |
| projector rental universal city| projector rental Carson | projector rental Claremont |
|lcd projector rental corona | projector rental Westminster | projector rental Whittier |
| projector rental Pico Rivera | projector rental Montebello |projector rental Inglewood |
| projector rental Pasadena | lcd projector rental Huntington beach | rental Huntington park |
| lcd projector rental la Habra | lcd projector rental la Puente | projector rental la Mirada |
| karaoke rental Redondo beach |multimedia projector rental los Angeles ca |
projector rental Denver co |
| projector rental phoenix az |projector rental chino hills| projector rental Anaheim hills |
| multimedia projector | audio visual projector | audio video | LCD Projector |
| LCD multimedia projector | big screen projector | video projector |
| multimedia projector los Angeles | projector rental los Angeles | |
| LCD projector rental los Angeles | multimedia projector rental los Angeles ca
| LCD multimedia projector rental orange counties | LCD projector rental los Angeles ca |
| Av projector rental los Angeles| av rental los Angeles, ca |
| av multimedia projector rental los Angeles|
| audio video rental los Angeles | pa system rental los Angeles| LCD projector rental los Angeles|
| video projectors rental los Angeles | DLP projector rental bellflower | projector rental Pomona |
| projector rental rancho Cucamonga | projector rental Reseda | projector rental san Gabriel |
| karaoke rental Artesia | projector rental Compton | projector rental los Angeles, ca |
|lcd projector multimedia rental los Angeles ca |lcd projector rental la, ca |
| multimedia projector rental lax, ca |
| projector rental la Canada | projector rental la Canada Flintridge | projector rental Sunland|
|projector rental sun valley| projector rental los Angeles | video projector rentals los Angeles, ca
|rental audio visual equipment rental los Angeles, ca |av audio visual rental | rent audio visual |
| multimedia rental los Angeles, California.| rent lcd projector los angeles, ca |
|projector rental Santa fe springs ca |audio visual multimedia projector rental city of commerce|
|projector rental city of commerce ca |projector rental city of industry ca|
|los Angeles video projector rentals| los Angeles lcd projector rentals|
|audio visual rental los Angeles |sound equipment rental los Angeles |
Projectors Rental, Projector Rentals, Video Projector Rentals, Video Projectors Rental, digital projectors, digital projector, audio visual, audio visual equipment, audio visual rentals, Lcd Projector Rentals